Today I released Manifest 4.0, probably the biggest update Manifest has ever had. There are lots of additions and improvements, but the two biggest are better scheduling and task tracking.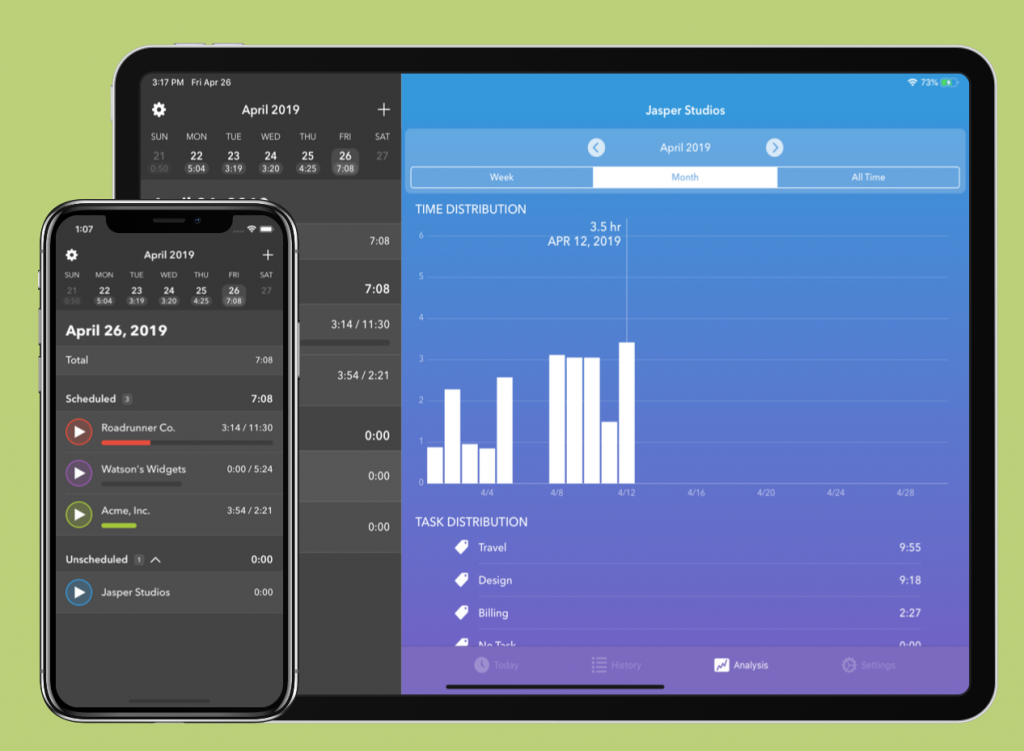 Scheduling
Each day, Manifest generates a custom daily agenda based on your project schedules and progress toward your goals. You can customize which days of the week you plan to work on each project, and Manifest uses those settings to show you which projects you should work on each day. You'll see a Scheduled and Unscheduled section on Manifest's main screen, each populated with projects appropriate for the day. For instance, if you set up a project for Fridays, it'll show up in the Scheduled section each Friday until you reach your time tracking goal, and in the Unscheduled section every other day.
As with many of Manifest's features, scheduling originated with my own time tracking needs. During development, I've found the new daily agenda to be really helpful in keeping my projects on track. Manifest not only tracks my time, but makes it much easier to plan my time as well. I hope you'll find these new scheduling features as useful as I do.
Tasks
One of the features I get asked about most is task tracking, and I've added it in Manifest 4. You can add a task to any previous or current timer, and tasks can be used across multiple projects. You can view a breakdown of tasks for a day, week, month, or all time, within a single project or across all projects. My hope is to make task tracking as flexible as possible so that it fits a wide variety of use cases.
Other features and enhancements
Better History View: History has a new planner view that shows how you spend time throughout the day like a day planner. The planner view makes it easy to see how your day went at a glance, where you have gaps or bounced around between projects. You can also view a simple list view of each time session. In either view, tap a session to edit start and stop times, project, task, and notes. You can also manually add time by tapping the + button in the upper right.
Keyboard Shortcuts: Manifest 4 adds some simple keyboard shortcuts for navigating the app with a hardware keyboard. I plan to add more keyboard commands in the future, but for now these are a helpful start.
Settings Sync: In Manifest 4, your app settings sync via iCloud in addition to your time tracking data, which helps keep all your devices in alignment.
Improved Watch app reliability: The Apple Watch can be a tricky beast to develop for, and Manifest 4 should improve the speed and reliability of starting and stopping timers from your watch. I plan a number of improvements to the watch app in the near future to make it more functional, but I didn't want to delay these quality of life improvements any longer.
I'm really excited to get this update out in the wild. I've been living with it for a couple of months now and I can't imagine going back. I hope you enjoy it and would love to hear your feedback if you have requests or suggestions. Feel free to reach out on Twitter at @manifest_iOS or feedback@tapandtonic.net. I'd love to hear from you!
If you've never used Manifest before, you can
download and try it for free from the App Store
.